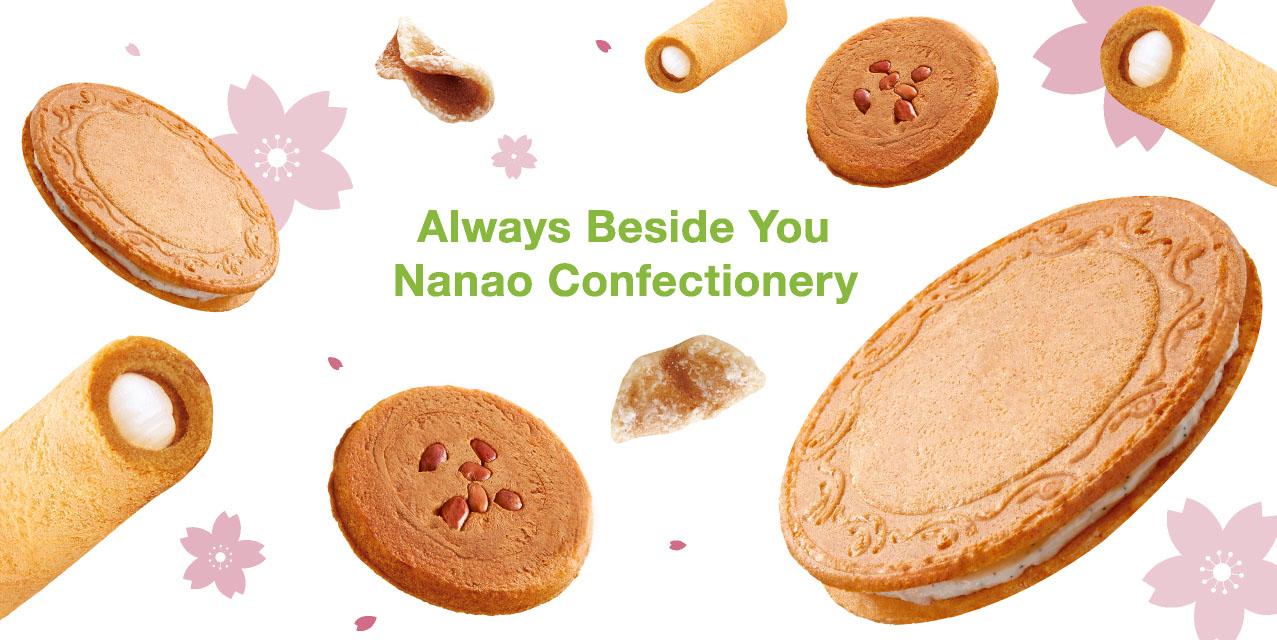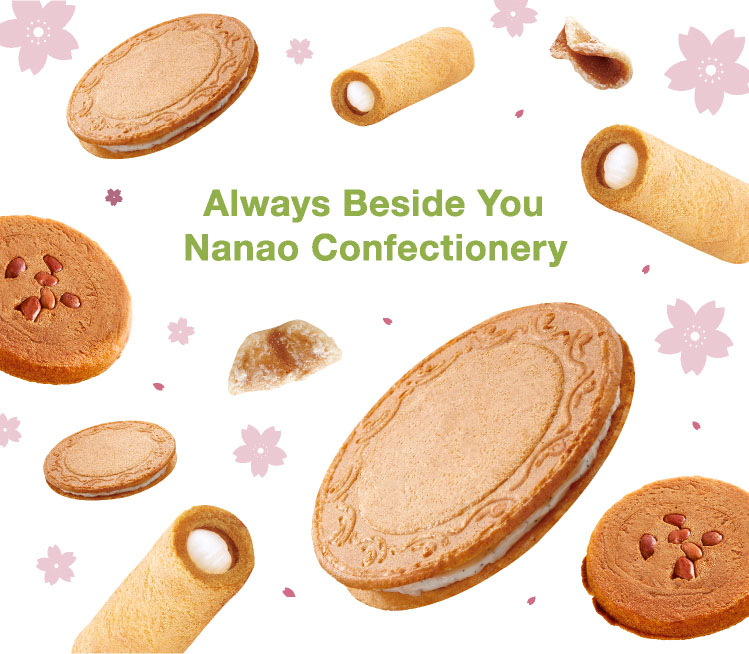 Corporate Philosophy
We provide sweets which are always delicious and can be eaten with peace of mind. These are Nanao Confectionery's sweets. And, we deliver smile and comfort to everyone through our sweets.
Manufacture of
Cookies and Sweets
Making use of the techniques and experiences we have cultivated since our business establishment, we are manufacturing cookies and sweets with "gentle and simple taste" while appreciating traditional handmade impression although they are manufactured by machinery. We have been making efforts to ensure food safety in all processes ranging from procurement of raw materials and manufacturing to logistics, and have been responding to the customers' various requests.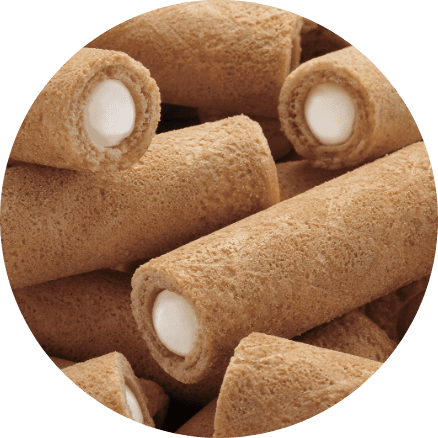 French Papiro
This product went on the market in 1962. Fluffy cream was filled in a roll-type crispy dough (outer shell). Its moderate sweetness enriches your relaxing time.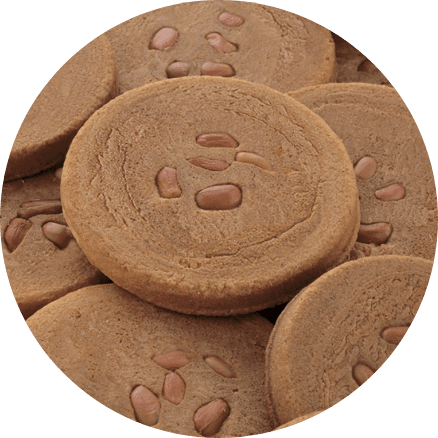 Taiko Senbei
(drum-like cracker)
This product went on the market in 1978. This is a cookie-like cracker using in-house roasted fragrant peanuts and eggs. We have baked this cracker one by one in a careful manner, while bringing out flavors of its ingredients.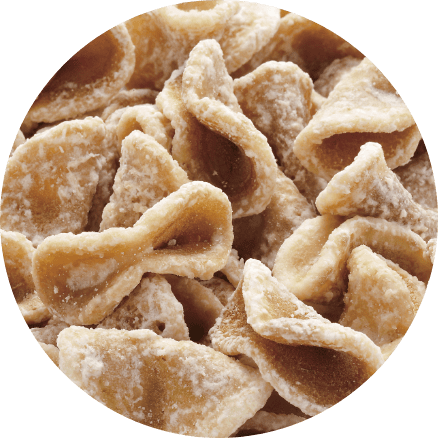 Shoga Senbei
(ginger-flavored cracker)
This product went on the market in 1957. A baked thin cracker is twisted a little to make a pinched form, and is coated with molasses containing grated fresh ginger produced in Kyusyu. This cracker has a somewhat spicy ginger flavor.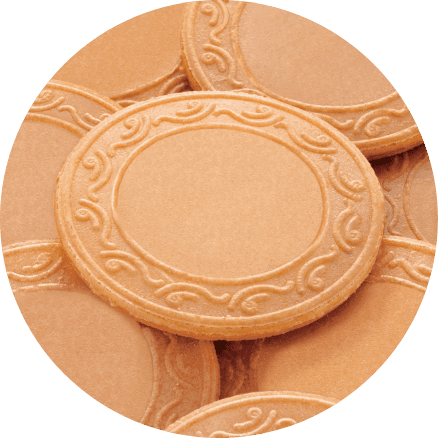 Cream Sand
(cream sandwich biscuit)
Fluffy cream using raw materials from well-selected production districts is sandwiched between crispy doughs. Please enjoy this product with a series of tastes, such as vanilla, powdered tea, strawberry, mango and chocolate.
Product Development
We have been making proposals continuously on new products capturing the needs of the times, such as local production for local consumption and health consciousness, together with our long-selling products loved by everyone for half a century or longer.
Company Profile
Company name

Nanao Confectionery Co., Ltd.

Location

Head Office 1-9-7 Kuzuhara,Kokura-minami-ku,
Kitakyushu City,Fukuoka Prefecture
800-0297 Japan Head Factory 1-9-5 Kuzuhara,Kokura-minami-ku,
Kitakyushu City,Fukuoka Prefecture Second Factory 1-8-4 Kuzuhara,Kokura-minami-ku,
Kitakyushu City,Fukuoka Prefecture

President

Midori Harada

Start of business

1957

Corporate establishment

1958

Capital

40 million yen

No.of employees

214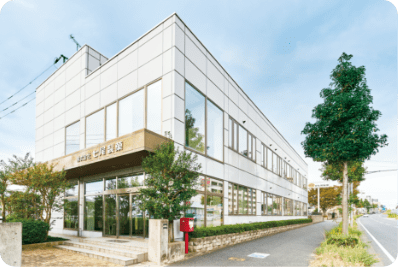 Global Business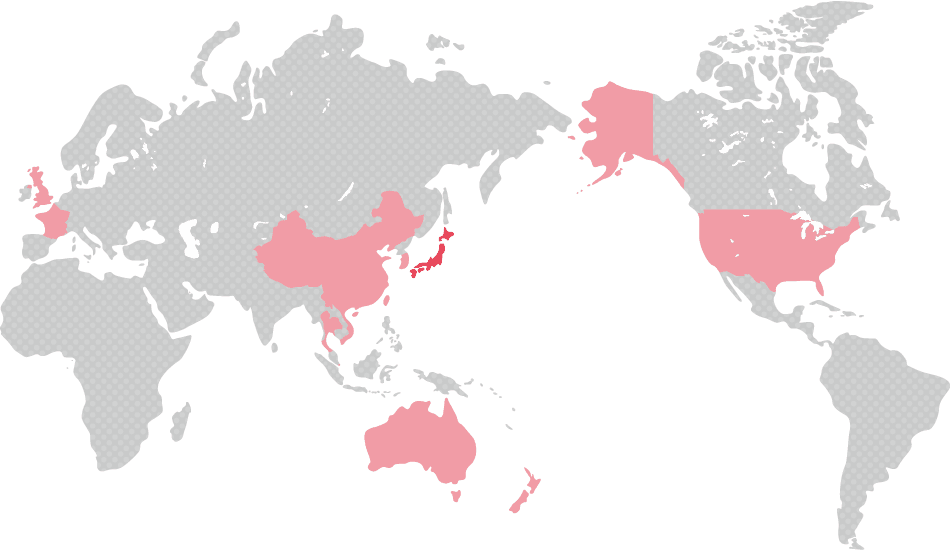 "Cream Sand (powdered tea taste)" was adopted as a light refreshment in the G7 Kitakyushu Energy Ministerial Meeting.
Nanao Confectionery obtained the management certification of the Japan Food Safety Standard (JFS-B) based on HACCP.